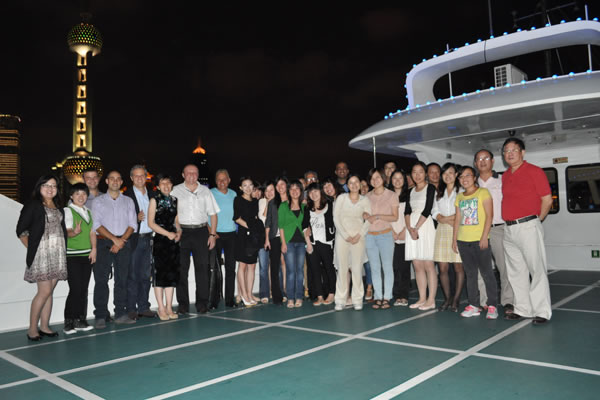 We have the trademark of CSM, meaning Chinese Special Metal. CSM Group professionally manufactures a variety of stainless steel, titanium & titanium alloy, as well as nickel & nickel alloy products. These special metal products are available in the form of sheets, plates, tubes, pipes, bars, rods, wires, forgings, pipe fittings, valves and clad plates. Strictly manufactured according to standards such as ASTM/ASME, EN, AMS, GOST, JIS, DIN, GB, etc., our special metal products are often used in industries such as sports, aerospace, shipbuilding, mechanical, food processing, offshore engineering, aircraft manufacturing, nuclear power generation, oil & gas, among others. Our annual sales reached 80 million dollars in 2013.
CSM Group has become one of the biggest special metal products suppliers in China, which owes to our elite team consisting of more than 1000 excellent personnel and traceably premium quality product. Moreover, boasting incomparable price and reliable service, CSM Group's industrial competitiveness covers more than 70 countries and regions. We honorably participated in the decoration of London Olympic Games Village in 2012 and deep processing of aircrafts' titanium alloy plates.
CSM Group consists of 6 factories and 1 trading company, whose headquarter is located in Lujiazui of Shanghai, the financial center in China.
We are aimed to become a high-end manufacturer of titanium & titanium alloy, nickel & nickel alloy, as well as stainless steel products all over the world.
Production Capacity
Sheet/Plate
CSM has both cold rolling and hot rolling production lines to supply cold rolled sheet and hot rolled plate made using titanium & titanium alloy, or nickel & nickel alloy. Our cold rolled sheet enjoys notability in heat exchanger, titanium anode, and other applications. CSM's annual production for titanium sheets and plates is 5,000 tons, and the annual production for nickel & nickel alloy sheets/plates is 500tons.
Titanium Seamless Tube/Pipe
CSM is one of the few manufacturers who are capable of producing seamless titanium tubes and pipes in complete procedure, which includes melting, forging, hot extrusion, cold rolling, vacuum annealing and 100% product inspection. CSM produces 3,000 tons of seamless titanium tubes and pipes every year.
Stainless Steel Seamless Tube/Pipe
CSM has its own piercing machine for its seamless stainless steel tube production. In addition, CSM also has advanced equipment such as the cold rolling machine, cold drawing machine, U-shaped tube bending machine, natural gas annealing furnace, solution annealing furnace, etc. CSM has whole process quality control which starts from the bar billet. CSM annual production capacity covers 6,000 tons of stainless steel straight tubes/pipes, and U-shaped tubes/pipes.
Titanium Bar/Rod/Wire
CSM focuses on the production of titanium bar, rod and wire products which are widely applied to industries such as aerospace, medical, ship-building, offshore, oil & gas, chemical, etc. The annual production for these titanium products is about 2,000 tons.
CSM has a technical team which conducts complete quality control for the titanium bar, rod and wire; and we also have strict control from the raw material stage.
Titanium Welded pipe
CSM welded titanium pipes are produced by automatic plasma welding machine, and automatic continuous welding machine. The welded pipes will also inspected by X-ray.
With 500 tons of annual production capacity, CSM has successfully become one of the biggest welded titanium pipe manufacturers in China.
CSM welded pipes have been vastly used in the following industries: oil & gas, chemical, offshore, ship-building, ocean engineering, aerospace, medical, food, and electric power generation, etc.
Pipe Fittings
CSM is one of the biggest manufacturers of titanium, nickel & nickel alloy, as well as stainless steel pipe fittings in China. CSM manufactures many types of products, such as pipe elbow, pipe tee, pipe cross, pipe reducer, pipe cap, and pipe stub end, etc.
CSM pipe fittings are also practically applied to many industries, such as machinery, shipping, oil & gas, petroleum, chemical & petrochemical, electric power generation, etc.
Flange and Forging
CSM range of flanges and forgings can be fabricated using materials such as titanium, nickel & nickel alloy, as well as stainless steel.
Having 6,000 ton hydraulic forging presses and 8 ton electro-hydraulic hammers, we are capable of providing large-sized forgings and flanges. CSM offers an annual production of 6,000 tons of flanges and forgings.
CSM Group is very proud to have won honor for China and enjoy great reputation worldwide. For instance, CSM is the first Chinese company which supplied the titanium products for 2012 London Olympic Games' decoration, and CSM also makes a history in Chinese special metal industry by supplying nickel and nickel alloy U-shaped tubes for a large international project.