Nickel& Nickel Alloy Forging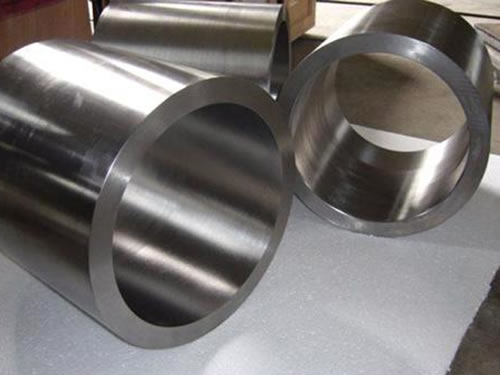 CSM Group has been sparing no effort to produce indissolvable rare metal product for years. We mainly focus on overseas market and sell our products to more than 30 countries all over the world. We adopt premium electrolytic nickel as raw material of our high quality nickel and nickel alloy forging. After being smelted and forged, our nickel and nickel alloy product has excellent performance in corrosion resistance, mechanical capacity, mechanical processing capacity and welding capacity.
We have nickel and nickel alloy forging products covering high-precision nickel forging, pure nickel forging, ring forging, flange forging, nickel and nickel alloy forging for pressure vessel use, etc. The product's application varies according to its different component ratios. For instance, when compared with nickel alloy, the 100% nickel does better in thermal conduction, electrical conduction and plasticity.
CSM produces 1,000 tons of nickel and nickel alloy forging every year. Our professional technology and impeccable production line both guarantee the product quality. We have dozens of production and testing devices, including vacuum melting machine, forging machine, pressing machine, 7000 ton numerical controlled hydraulic forging machine, etc. Having been unremittingly keeping up our business philosophy of quality and honesty, we enjoy the preference and good reputation from customers and cooperators for years.
Standard
ASTM/ASME B/SB564,
ASTM/ASME B/SB637, etc.
Material
(1) Pure Nickel-99%
Nickel200/201(UNS N02200/N02201)
(2) Monel-nickel-copper alloy
Monel400(UNS N04400)- Ni63Cu30
(3) Inconel-Ni- Cr alloy
Inconel600(UNS N06600)- Ni73Cr15
Inconel601(UNS N06601)- Ni58Cr21
Inconel617(UNS N06617)- Ni52Cr22
Inconel625(UNS N06625) - Ni58Cr20
Inconel690(UNS N06690) - Ni58Cr27
(4) Incoloy- Ni - Cr - Fe alloy
Incoloy800(UNS N08800)- Ni32Cr20
Incoloy800H(UNS N08810)-Ni32Cr20
Incoloy825(UNS N08825)-Ni40Cr22
Incoloy925(UNS N09925)-Ni44Cr21
Carpent 20(UNS N08020)- Ni43Cr22
(5) Hastelloy-Ni-Mo alloy
Hastelloy B2 (UNS N10665 )-NiMo28
Hastelloy C22(UNS N06022)-Ni57Cr21
Hastelloy C276(UNS N10276)-Ni59Cr15
Size
| | |
| --- | --- |
| Description | Size Range |
| Disk | Dia ≤ 3000mm, Thk ≥40mm |
| Ring | OD≤3000mm,h ≥40mm |