Nickel & Nickel Alloy Pipe Fitting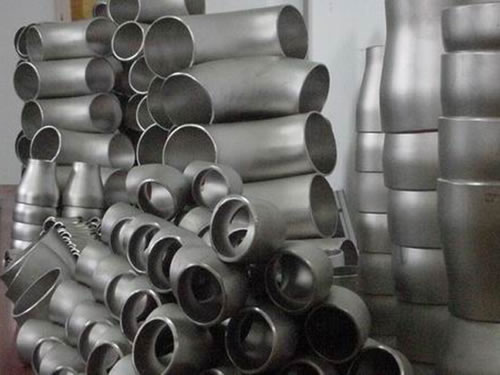 Being one of the biggest nickel and nickel alloy products manufacturers, we professionally manufacture nickel and nickel alloy fitting. With an annual average production of above 2,000 tons, we sell our nickel and nickel alloy products to countries all over the world.
CSM nickel and nickel alloy pipe fittings are available in a huge number of varieties, including the pipe elbow, pipe tee, pipe cross, pipe reducer, pipe cap, pipe stub end, etc. They are widely applied to many industries, such as machinery, shipbuilding, oil & gas, petroleum, chemical, petrochemical, electric power generation, and more.
Our nickel and nickel alloy fitting has outstanding resistance to heated strong alkali. It also has high corrosion resistance to salt and alkaline medium, neutral solution and fatty acid. Therefore, this product is mostly used in the salt corrosion environment and applied to the industrial production of alkaline product, alkaline resistant equipment and instrument and so on.
Standard
ASTM/ASME B/SB366, ANSI B16.9, ASME B16.28, ASME B16.11, ASME B36.10, ASME B36.19
Size
1/2"~1800mm
Sch 10s~Sch 160
Material
(1) Pure Nickel-99%
Nickel200/201(UNS N02200/N02201)
(2) Monel-nickel-copper alloy
Monel400(UNS N04400)- Ni63Cu30
(3) Inconel-Ni- Cr alloy
Inconel600(UNS N06600)- Ni73Cr15
Inconel601(UNS N06601)- Ni58Cr21
Inconel617(UNS N06617)- Ni52Cr22
Inconel625(UNS N06625) - Ni58Cr20
Inconel690(UNS N06690) - Ni58Cr27
(4) Incoloy- Ni - Cr - Fe alloy
Incoloy800(UNS N08800)- Ni32Cr20
Incoloy800H(UNS N08810)-Ni32Cr20
Incoloy825(UNS N08825)-Ni40Cr22
Incoloy925(UNS N09925)-Ni44Cr21
Carpent 20(UNS N08020)- Ni43Cr22
(5) Hastelloy-Ni-Mo alloy
Hastelloy B2 (UNS N10665 )-NiMo28
Hastelloy C22(UNS N06022)-Ni57Cr21
Hastelloy C276(UNS N10276)-Ni59Cr15
Available Types of Nickel and Nickel Alloy Pipe Fittings
Pipe Elbow: 45°, 90° and 180° long radius elbow or short radius elbow
Pipe Tee: Equal tee, reducing tee
Pipe Reducer: Concentric reducer, eccentric reducer
Pipe Stub End: Long pattern stub end, short pattern stub end
Pipe Cross: Equal cross, reducing cross
Pipe Cap
Tube Socket
Drive Pipe, etc.