Nickel & Nickel Alloy Sheet and Plate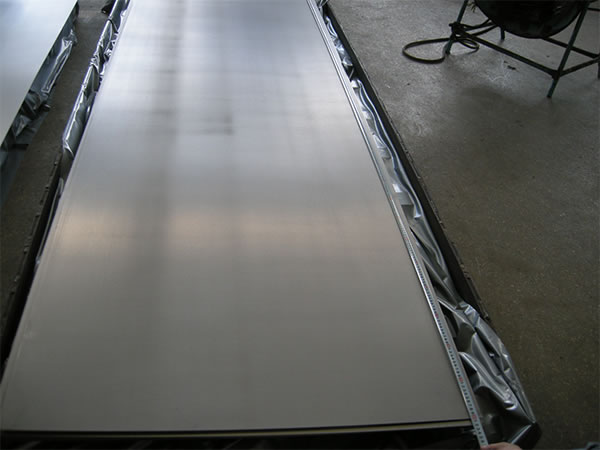 CSM range of nickel and nickel alloy sheet and plate has outstanding performance in many aspects. It boasts superior corrosion resistance to salt and alkaline compound like nitrate, carbonate, acetate, oxide and neutral solution. Also, it is excellently corrosion resistant to heated strong alkaline solution and fatty acid. Therefore, CSM nickel and nickel alloy sheets and plates can be widely applied to the alkaline chemical industry, such as the chlorine and alkali making, food processing, water treatment, electronic instrument producing and the environment of high temperature halogen or salt corrosion. With an annual production of 300 tons, CSM can meet each of your order demands.
CSM is able to supply cold rolled nickel alloy plate, hot rolled nickel alloy plate, pure nickel plate, electrolytic nickel plate, electroplated nickel plate, etc. Our strict production line, rigorous product testing and satisfying quality and service will definitely win your recognition and appreciation.
Product Parameter
Size range
| | | |
| --- | --- | --- |
| | Cold rolling | Hot rolling |
| Thickness | 0.6mm-5mm | 5mm-30mm |
| Width | 1,219mm max. | 2,000mm max. |
| Length | 2,400mm max. | 6,000mm max. |
Standard
ASTM B127/B162/B168/B409/B424/B443/B463/B575
Selectable material
(1) Pure Nickel-99%
Nickel200/201(UNS N02200/N02201)
(2) Monel-nickel-copper alloy
Monel400(UNS N04400)- Ni63Cu30
(3) Inconel-Ni- Cr alloy
Inconel600(UNS N06600)- Ni73Cr15
Inconel601(UNS N06601)- Ni58Cr21
Inconel617(UNS N06617)- Ni52Cr22
Inconel625(UNS N06625) - Ni58Cr20
Inconel690(UNS N06690) - Ni58Cr27
(4) Incoloy- Ni - Cr - Fe alloy
Incoloy800(UNS N08800)- Ni32Cr20
Incoloy800H(UNS N08810)-Ni32Cr20
Incoloy825(UNS N08825)-Ni40Cr22
Incoloy925(UNS N09925)-Ni44Cr21
Carpent 20(UNS N08020)- Ni43Cr22
(5) Hastelloy - Ni - Mo alloy
Hastelloy B2 (UNS N10665 )-NiMo28
Hastelloy C22(UNS N06022) - Ni57Cr21
Hastelloy C276(UNS N10276)- Ni59Cr15